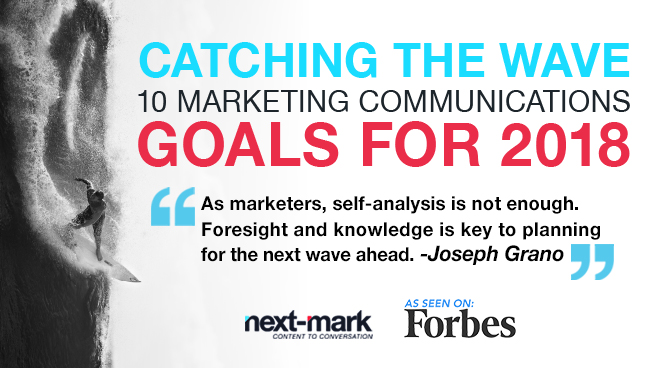 For many, the year's end evokes a time of reflection, renewal and reinvention. As we weigh what we did right and what we could have done better, learning from missteps and owning them, we can work to rebuild or strengthen a foundation for sustainable success.
As professional marketers, strategic planners and digital communications experts, however, we know that such self-analysis is not enough. It also requires foresight and a knowledge of what's to come and what it may mean for the individual person or organization.
Think of this stage as surfing. You study the water, using your knowledge and experience to detect any submerged dangers and then calculate when to stand up and get in front of the new wave(s) that will deliver you safely to shore.
What will it take to master the marketing waves in 2018? Here are a few important considerations as we look to a New Year of trends, strategies and tactics.
1. A Strategic Mindset: This is critical to marketing success. A strategic mindset is more than rhetoric; it encompasses a disciplined approach to every aspect of what we do as professional marketing communicators. This means we must assess every initiative, tactic or campaign from a strategic perspective that looks not only at the bigger picture but also creates a positive and sustainable difference.
2. Ability To Ride The Transformative Digital Groundswell: Yes, digital is here to stay. However, we still need to recharge our digital efforts and continually refresh our digital know-how to embrace the next surge of digital tools.
3. Creative That Is Bold And Measurable: We need to move beyond being a steward of creativity to become a purveyor of ideas that not only go beyond creative exposure but also are measurable, creating new insights into a business. As professional marketers, we have a fiduciary responsibility to not only nurture the creative process but also build creative that truly moves the needle.
4. Real And Consistent Metrics: The reality is that we all value metrics as a compass for our results and overall direction. However, it may be time to refocus our efforts on optimizing our metrics to focus on a clearer measurement of our overall success. There is a lot of valuable information at our fingertips, and we must make the best use of it all.
5. Social Media Measured By Engagement, Not Raw Numbers: We must think beyond "likes" and emojis to consider the long-term engagement we want to cultivate within our sphere of influence. To do this effectively, we must provide candid, respecting opinions and create opportunities for open dialogue.
6. Street-Level Promotion: Of course, digital marketing activities are important, but are your products/services understood at street level? Is there a passion for your brand that transcends a transaction and builds a fundamental understanding? Be street level. A marketing plan must resonate on Main Street as much as in the virtual world.
7. An Advocate Of Your Brand Promise: Don't just be a purveyor of your product or service. A brand's marketing must connect with the consumer both functionally and emotionally to truly differentiate it from competitors.
8. Public Relations: Good ol' PR is still critical if done well. This means taking every opportunity — from new hires to big changes — to deliver real news that helps keep your company top of mind and build relationships both with consumers and media outlets.
9. Valuable Content: Content marketing is a powerful tool. Instead of pitching your products or services, you are providing truly relevant and useful content to your prospects and customers to help them solve their issues.
10. Thought Leadership: Thought leadership is at the core of every message and should be part of a company's DNA. Positioning a company or its leadership as an expert in its industry dovetails with effective content marketing to solidify image and open doors to consumers.
This is the time to clear out any cobwebs and shake off any obstructions to needed change ("We've always done it this way") and marketing creativity ("Management will never go for this"). It's also the time to ramp up excitement for what no doubt will be another significant year in marketing communications.
This article authored by Joseph Grano appeared on Forbes.com