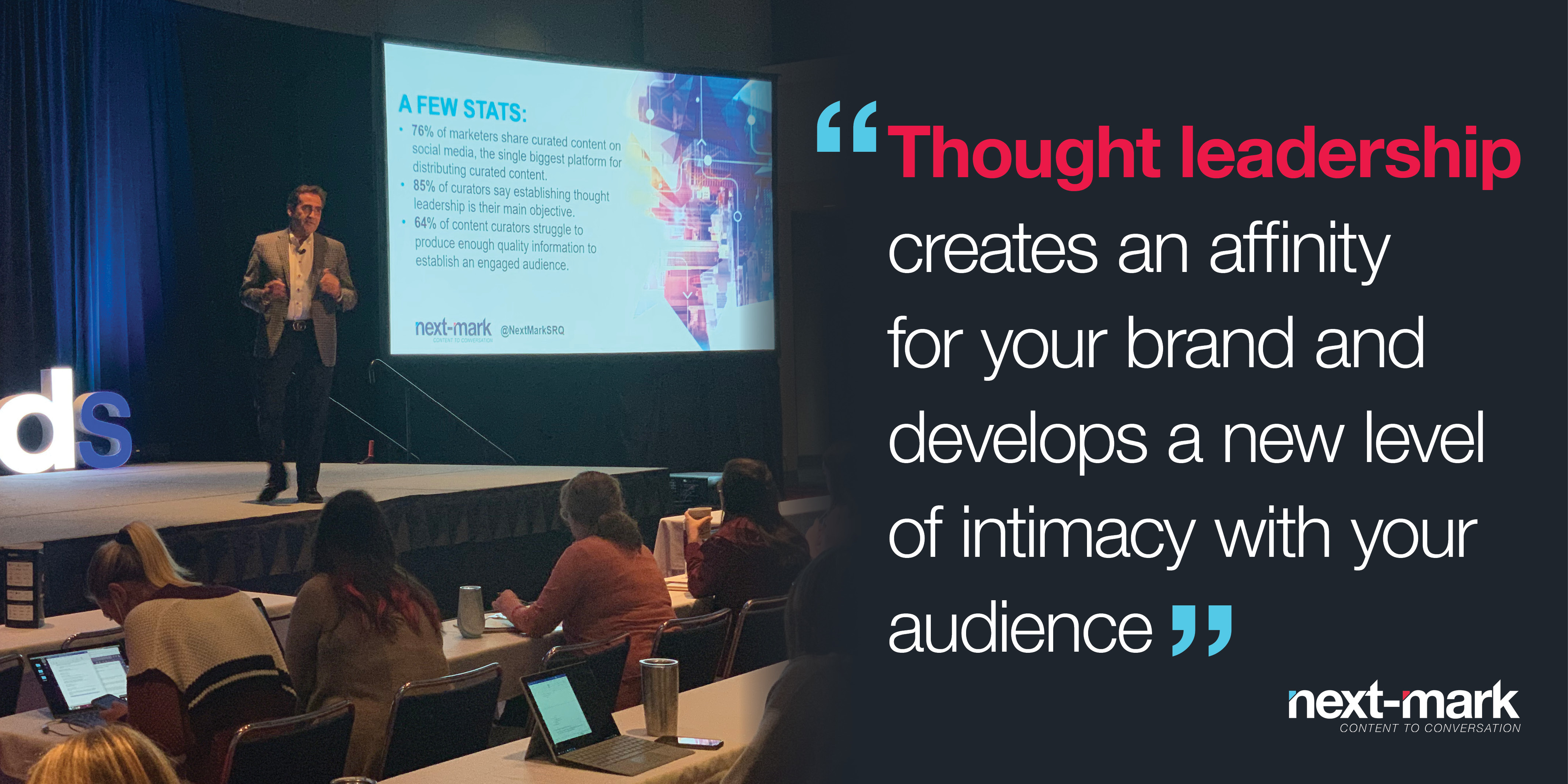 This past week I spoke at the Digital Summit Charlotte on "Amplifying Thought Leadership through Content Creation." I want to share the key points from my presentation with you here. In a world of too much information, quality information is gold. Being the source of that gold is an advantage in the marketplace and an opportunity not to be missed.
That, basically, is what Thought Leadership Content Curation is all about—gathering relevant, engaging, fact-based information, then adding value and sharing that information with targeted audiences. It involves tapping into the talent, experience and passion inside your business, or from your community, to answer the biggest questions on the minds of your target audience.
This is done with the goal of establishing yourself, your organization or the position you represent as the "go-to" for credible, sustainable and powerful content, enabling you to enter the conversation early in the consumer journey. Such thought leadership also creates an affinity for your brand and develops a new level of intimacy with your audience. It's also extremely cost efficient.
When I say "thought leaders," I'm not talking about self-appointed pontificators. Instead, I'm talking about informed opinion leaders who are trusted, inspirational and aspirational.
Ready to raise your visibility (a.k.a. amplify your thought leadership) in your space? Here are 10 steps to guide you in launching a sustainable Thought Leadership Content Curation program for your organization:
Get Buy-in From the Top.Thought Leadership Content Curation requires high-level support and impetus to create and maintain a viable effort.
Build Your Thought Leadership Platform.
A few points to consider:
Do not "curate" images that you don't have the rights to. Be aware of copyright issues.
Link back to the original source. Provide appropriate references – make it a win-win.
Make it your own. Don't just copy, put it in your own words.
Start with content that is of the highest value. Curate content of interest that is shareable.
Elevate the conversation. Dare to be bold.
Identify Your Sphere of Influence. This is done by asking three simple questions: Whom do you want to reach? What will resonate with your audience? How will you do it?
Move Beyond Influence and Create a Conversation About Your Brand. Tell your story, aligning your leadership message to your brand, in a consistent and ethical manner.
Build an Arsenal of Thought Leadership Assets. These "weapons" include infographics, blogs, facts from trusted sources, case studies, social media posts, white papers, executive briefs, etc. Remember that the same information can be used different ways; make the most of your content.
Stand Out in the Crowd. Curate thought leadership content that drives results by identifying topics that align with your brand, maximizing the opportunity to gain share of mind and adding value to existing content that is memorable, shareable and sustainable.
Select the Optimal Channels. Know your audience and choose the appropriate channels to move your message forward.
Always be Strategic.Thought Leadership Content Curation is goal-driven. Each single effort should add to the whole.
Measure your Results.Perform routine audits to measure results including online metrics, response rates and monitoring formal and informal conversations about your brand.
Communicate your Success. Remember to share your results with your team.
And throughout it all, remember:
Seek to showcase excellence.
Create engaging, thought-provoking content.
Be authentic, concise and fact-based.
Attract the appropriate audience for your message.
Don't be afraid to take risks.
There is a wealth of thought leadership content that is never promoted to its full potential. Make yours work for you and your brand.
If we can help with your next thought leadership initiative, please contact us, We can be reached at 941.544.2765 or by email. For more information about all of our capabilities, view our Online LookBook.