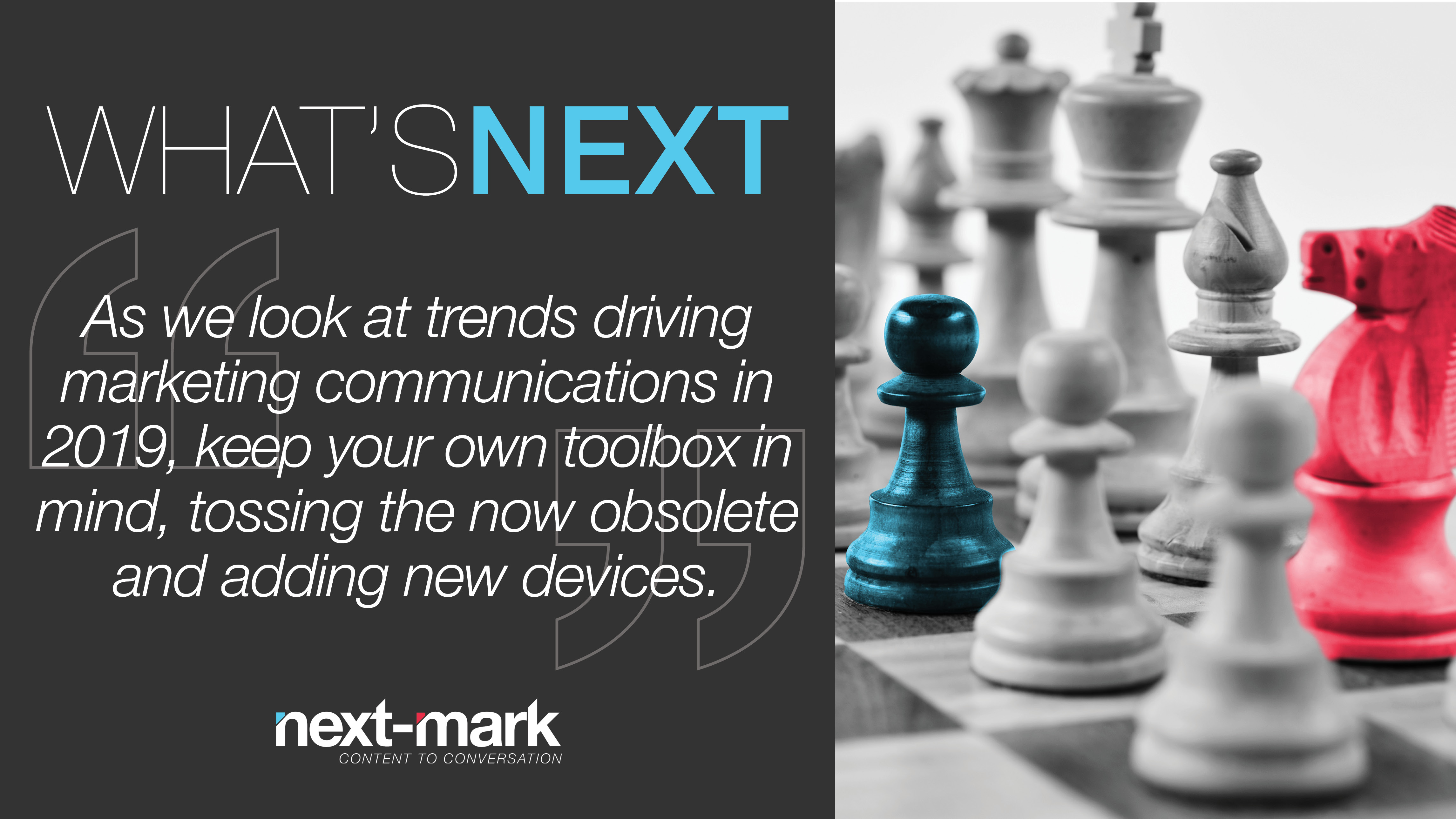 Planning is critical in any business. In marketing, it's also important to have the right tools in place to transform plans into a solid strategy with tactics that propel your business forward. So, as we look at trends driving marketing communications in 2019, keep your own toolbox in mind, tossing the now obsolete and adding new devices.
1. Refreshing Your Brand: Self-Evaluation
One of the key ways we serve our clients is by helping them to understand their brand – as it was, is and should be. While we've been doing this for years, experts report that this concept is taking a stronger hold recently, especially in the B2B realm. The process involves creating or re-evaluating the core brand promise and developing a messaging strategy that demonstrates what that company is today. It's an inward look at what the rest of the world sees and, from our experience, it can be quite eye-opening.
2. Marketing in the Palm of Your Hand Social Media Still Reigns
Social networking apps have become one of marketing's most powerful forms of outreach for both content and advertising. Offering a fast track to customer engagement and brand loyalty, apps like Instagram also promise an attractive ROI. Though a simple process, presence on these networks does require a high degree of creativity to draw attention, maintain contact and engage with followers. Strategic planning to grow a profile's following is also a necessity. In 2019, we can expect to see newer apps like Vero burst onto the scene and potentially dethrone some of the powerhouse social media mediums that have dominated the market this year.
3. Embracing Influencer Marketing: Authenticity is a Priority
Social media is by far the most popular channel for Influencer Marketing, which entails building relationships with others who can connect you to your target market. An influencer is simply someone who has a large following on social media and other digital platforms, and can affect the purchasing decisions of their fans. Seen to be a perfect tool for today's ad-weary consumers, Influencer Marketing can add authenticity to brand communications and strategy. We predict that companies in the New Year will focus less on simply the number of followers an influencer has, and more on whether the individual is a good fit for the brand and campaign. Veracity will always be valued be social media consumers.
4. Focusing on The Few: Account-Based Marketing
Account-Based Marketing concentrates resources and effort on a limited set of carefully chosen target accounts, and has brought a personal touch to business-to-business (B2B) marketing. Based on the needs of each individual prospect or customer in that set, Account-Based Marketing drives customized campaigns designed to speak specifically to them. Admittedly, it's harder than sending a blast email. However, reports show that nearly 85 percent of marketers measuring ROI say that Account-Based Marketing outperforms other marketing spends – and 50 percent say the difference is significant.
5. Seeing is Believing: Video Will Continue to Grow and Flourish
Video content, which currently makes up 75 percent of internet traffic, is expected to grow to a whopping 82 percent by 2021, according to Cisco's annual Visual Network Index forecast. A powerful tool in story telling, motivating, entertaining and relationship building, video is poised to continue dominating digital marketing. Here, again and of course, creativity is essential, as the point isn't just to sell but to create bonds that last.
What Else is on the Horizon? 
While we'll stop here, there are few other things to put on your "watch" list as 2019 brings another year of business opportunity.
Continue High-Quality Content: Having the information customers/prospects need builds trust and relationships.
Know Your Audience(s): Despite the power of individual transmission outlets, you still have to deliver information the way they want to receive it.
Think Strategically: You have the content and the means to convey it, but it will go nowhere without a strategy behind it.
Make Contact: Technology and automation are wonderful things, but they can't build relationships as strong as those forged with a personal touch.