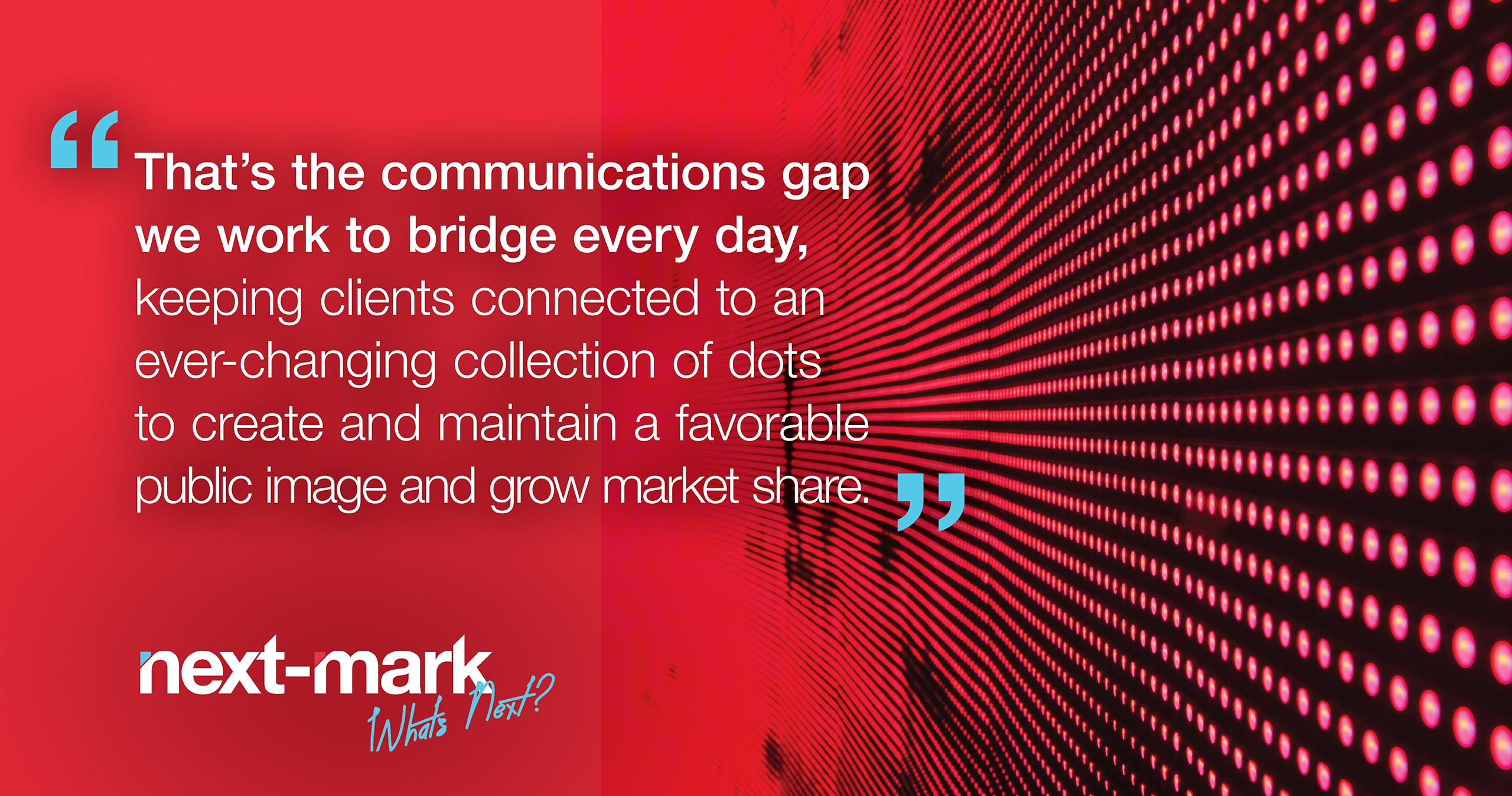 Some years ago, we were part of a PR professionals meeting held at a local daily newspaper. While we were waiting for the session to begin, a biz reporter popped in to thank us—yeah, we were surprised too. In essence, this reporter told us he was glad when a company was represented by an agency because, when left to their own devices, they often didn't know how to work with the media.
That holes true today even as media forms and platforms have emerged and changed radically over the past few years, each with its own purpose, process and potential value.
Ultimately, that's the gap we work to bridge every day, keeping clients connected to an ever-changing collection of dots to create and maintain a favorable public image and grow market share. In that pursuit, we have developed a process that is both solid and flexible, grounded yet nimble. And it works.
A Strong Beginning
It starts with research. Before our first substantive meeting with the client, we dig into their organization's existing media to get a customer's perspective and find gaps in their messaging.
After that comes a strategic messaging meeting, where we explore how a company wishes to be perceived with our proprietary method.
From there, we work hands-on with the client to compile the nuts and bolts of a messaging strategy to build a thought leadership position through content and implement a media strategy across platforms and vehicles, choosing the right message at the right time with the right language.
Client Education
All along the way, there's client education, because it's true most owners and managers are too busy with their day jobs to care about the kind of deliverable we're producing. They just want to know that it's working.
For instance, we recently created a virtual press kit for a client who was curious about its purpose. The answer (to us) is simple: To make everything as easy as possible for the inquiring media outlet. The press kit is a snapshot of the company today, including its leadership, services/capabilities, history, contact info, story pitches, topics on which they are qualified to comment, and so on. Whether shared as a hardcopy or digitally, it's a calling card to meet with local media and an introduction to those beyond earshot. And, since it's professionally designed to represent the company's character and personality, it makes a concise, compelling first impression.
More than just a convenience for reporters; now, it's fodder for today's understaffed outlets. Other tried-and-still-true methodologies are video (in spades) and social media (a must). Bottom line: It's all about removing every conceivable hurdle between our client and media.
Ongoing Evaluation
Underlying all PR efforts is an insightful assessment of emerging outreach avenues. This involves keeping track of trends and measuring their worth to each client. In 2022, these trends include:
Sponsored Content
This entails material in a print or online publication that resembles the publication's editorial content but is placed there, and paid for, by the advertiser. We know what you're thinking: "Nobody reads this content". But according to Reuters, 75 percent of consumers say they will engage with whatever well-written content interests them, sponsored or not. So, it's a great option for some when employed strategically.
The Pitch
"Pitching" a story or an event to an outlet has changed in many ways, with mass email going the way of the dodo. Today, the process must be driven by research and based on a compelling, relevant, personalized story concept. That takes specialized knowledge of how editorial teams work to know how to grab their attention.
Enter the Influencer
It's a fact: A teenager in Iowa with 100,000 followers on Instagram can have a profound impact on your brand. It's also a bit unnerving: If your fingers aren't on the pulse of so-called influencers, there could be forces at work against you. There's an art to dealing with influencers, figuring out who they are, their level of actual credibility and whether they're just in it for the free stuff. With the right connections to the right people, though, outreach to bloggers and influencers can be effective, especially for openings and product launches that match their areas of purported expertise.
Consumer Reviews
Unhappy customers today have scores of places to voice their dissatisfaction. With more consumers relying on reviews to make their buying decisions, it's important that your organization stay true to its brand promise. This will reduce the risk of bad reviews and allow you to collect your own testimonials to display proudly and prominently on your own channels. In addition, responding to reviews is a great opportunity to engage directly with clients to thank them for their input or personally invite them back in to make up for a bad review.
Benchmarks in Perception
Professionalism
Unless yours is the only feed store in Cowtown, people are going to compare your organization to others. Most are going to start online. Your website and social channels will tell a consumer right away how seriously you take your business. Quality content and good design build trust and respect. Decades-old web design templets, outdated fonts and grammatical errors can hurt your image. You can keep it simple, but professionalism is communicated with clear content that's in your unique voice.
Consistency and Frequency
A lack of these is poison, especially when it comes to social media and online presence. As with personal relationships, it takes consistent, frequent engagement to build/reinforce trust. Does your company finish what it starts? Does it regularly have something worth saying? Is its project list up to date? A lack of effort in communicating an answer to these questions can make a company seem like it's barely getting by or doesn't have the time to consider the ease of their customers' journey.
If we've spurred your interest or encouraged you to dig deeper into opportunities, give us a call. We're always available for a chat and always open to a new mutually beneficial relationship.
---