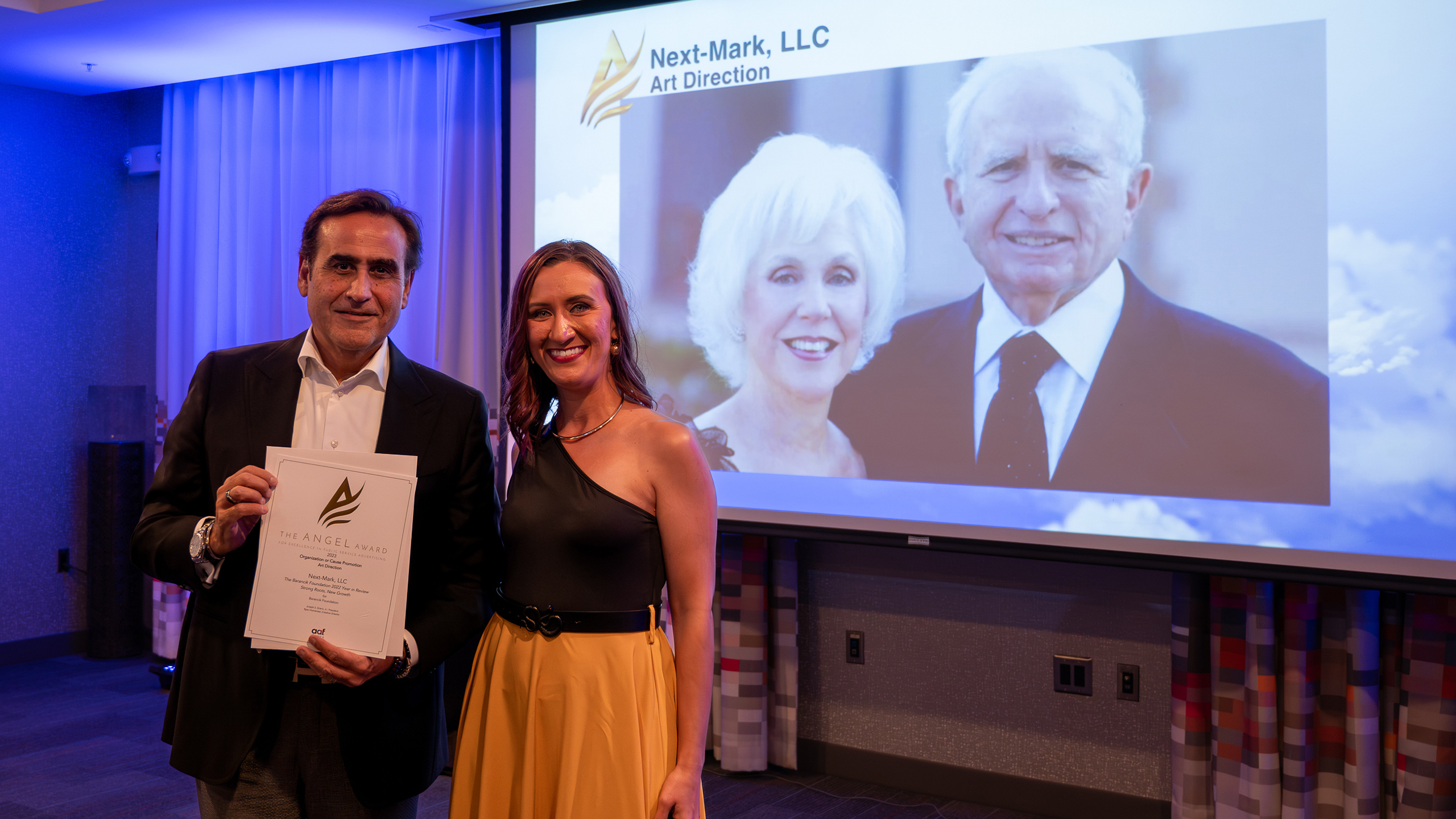 Sarasota-based marketing and communications agency receives Statewide and Caribbean Gold Angel Award
SARASOTA, FLORIDA (November 29, 2023) – Next-Mark, a full-service marketing and communications agency serving clients in Florida and nationwide, was recently recognized with AAF's Gold Angel Award for their exemplary public service work in advertising during the 5th Annual American Advertising Federation District 4 Angel Awards ceremony in Tallahassee, FL.
At this year's Angel Awards, competing in the category of Organization or Cause Promotion, Next-Mark received a Gold Angel, the highest accolade awarded in a category, for their community-based work with Charles & Margery Barancik Foundation.
"Although we create for a wide variety of businesses, it's incredibly important to us that we participate in and support organizations doing great work in our own community," says Joseph Grano, President of Next-Mark, who accepted the award on behalf of his team. "To be recognized by our peers for the work we do in our region with local non-profits who are making a difference in our community is just an added bonus to the gratification we get from doing these kinds of projects."
Every year, the American Advertising Federation District 4 conducts the Angel Award Competition, honoring the very best in public service advertising by honoring campaigns that demonstrate exceptional results and execution. The awards combine two missions of the organization: to utilize industry expertise to address community issues, and to celebrate and honor advertising excellence. Entrants consisted of a variety of advertising service providers, public service organizations, and special interest causes and groups located in Florida and the Caribbean.
"Seeing all of the excellent work in public service advertising created in Florida and the Caribbean year after year is incredibly inspiring. Creativity and innovation continue to evolve in our market, while dedication to creating an impact grows stronger each year," says Giavona Williams, Governor of AAF District 4. "The award-winning work always gives a deep look at the current issues that impact us. This year was no exception. COVID, social issues, fundraising challenges, drugs; public service advertising addresses it all," stated Mike Weber, Chair of this year's Angel Awards competition.
View the full list of winners and the award show video at www.TheAngelAward.com.
About the AAF District 4
The AAF District 4 is one of 15 regional American Advertising Federation (AAF) Districts nationally. It is comprised of 18 local federations located throughout Florida and the Caribbean. The AAF District 4 is different from any other advertising trade organization because it is comprised of a network of professionals that represent all disciplines of advertising at all levels. The District's goal is to inspire, inform, and educate advertising professionals, mentor advertising students, monitor legislative issues, recognize excellence, promote public service causes, and help build our economy. For more information, visit https://www.4aaf.com/.
About Next-Mark
Next-Mark, LLC is a full-service, award-winning marketing communications agency based in Sarasota, FL. It helps business leaders beat their growth targets by delivering better competitive insights, more powerful branding, stronger strategies and faster results. Breaking away from the constraints of traditional marketing service organizations, the Next-Mark team facilitates new conversations about a client's brand, integrating experience, analytics and innovation in developing strategic marketing solutions to meet clients' individual needs. Next-Mark focuses on internationally and nationally recognized brands along with growing companies across a broad spectrum of categories, including home services, architecture, government, healthcare, technology, hospitality and entertainment, tourism, retail, real estate, environmental, marine products and tourism. With clients from California to South Africa, its roster includes industry leaders such as Comcast/NBC, LexisNexis, Elsevier, Neuroflow, Nuance Communications, CMX/Cinebistro, Medecision, CGI, California Pizza Kitchen, along with Florida-based clients including The City of Sarasota, Willis Smith Construction, St. Armands Circle, Sweet Sparkman Architecture and Interiors, Get Coastal Exteriors, John Cannon Homes, Yarnall Moving and Storage, CitySide Apartments, and The Met Sarasota among others. For more information, visit its website at www.next-mark.com.
###