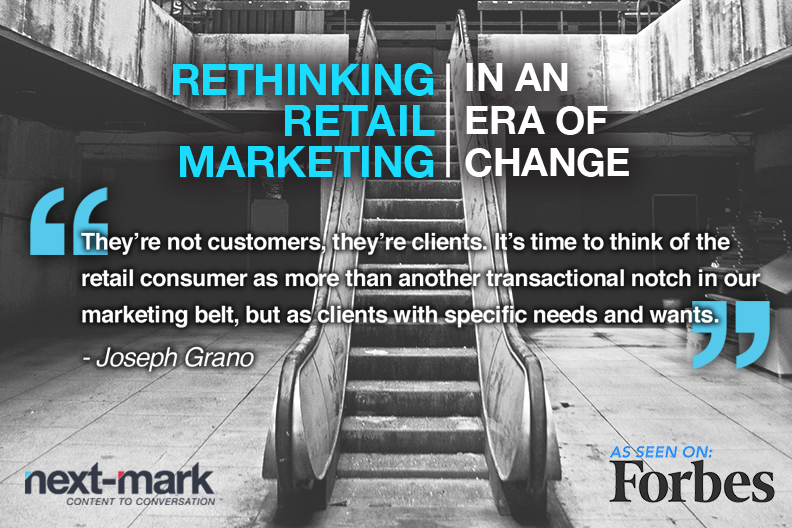 Clearly, the retail industry is at a crossroads. From the compression of storefronts to the explosion of online options, retail marketers have never been more challenged and somewhat overwhelmed in developing viable marketing strategies and tactics that will resonate with retail consumers. Know-how, innovation and ideation don't seem to be enough to change the retail marketing game in this ever-evolving climate. It's time to do more than just check the box but to re-think, re-imagine redefine retail marketing.
Here is some re-thinking every retail marketing professional should entertain.
They're not customers, they're clients. It's time to think of the retail consumer as more than another transactional notch in our marketing belt, but as clients with needs, wants and likes that we need to do more than satisfy, but build and maintain a renewed and trusted relationship with. Retail leader, Nordstrom has been a longtime proponent of this. They not only see a customer as a client, they build real relationships with throughout the retail experience and beyond.
It's about the experience, Yes, online retail options provide convenience and service levels that satisfy many of the needs retail consumers, but retail clients still want to touch and feel. It's time to think about the retail experience before anything else. What motivates a retail client to think beyond shopping to a retail excursion, which may include more than a purchase but the creation of a memory. This excursion may include a meal, a family activity, an event or another engagement that becomes a shareable moment. The retail experience has a lot more to do with the environment, the culture, the brand promise rather than just another day at the mall. When we look at the latest retail development projects, we are seeing new levels or innovation that includes more than a retail anchor but a combination of offerings under one retail space. Retail marketers must now provide marketing communications solutions that rise to this evolving physical space creating a renewed retail experience.
Integrate or perish. There now needs to be a new obsession with the traditional marketing mix that moves beyond our comfort zone, but to a newly defined professional marketing DNA. Integration needs to be an obsession where marketing communications is part of a fine-tuned ecosystem that unites all facets of marketing including customer service, advertising, social media, public relations, events, digital interface, mobile and more. This holistic approach will transcend traditional marketing tactics and create a new professional mindset and a re-tooled approach to all marketing efforts.
Reconsider demographics. Not only do demographics matter, but they also provide insight into the heart of retail clients, yet the retail industry continues to be one-dimensional in their approach. Retail marketers need to refocus their efforts beyond what they perceive as their demographic sweet spot, but consider a psychographic approach that includes sources of motivation that transcends traditional demographic thinking. It's time to understand what retail clients are passionate about and what they expect from each retail experience. Retail marketers now need to harvest emerging segments move beyond traditional demographic targeting.
Brands still matter. The retail revolution requires far more than a brand refresh but should include a brand audit that defines a new threshold for your brand promise. Beyond measuring brand recognition and other traditional brand metrics, its time to obsess about brand loyalty, you're inherent brand promise and a timely examination of your brand's perception in the marketplace. A brand audit is a re-examination of the inherent traits your brand possesses and how it does or does not resonate with your audience. The brand audit needs to be a 360 degree process that includes all of your internal and external publics benchmarking your current brand perception and then re-examining your brand on a regular basis.
Every day is a brand new day for retail marketing professionals, where talent, creativity and imagination will always prevail. If we make retail experiential, the best bricks and mortar or digital interface will only enhance the overall client experience and refocus the retail mindset to the next generation of consumers.
This article was published on Forbes.com, authored by Joseph Grano