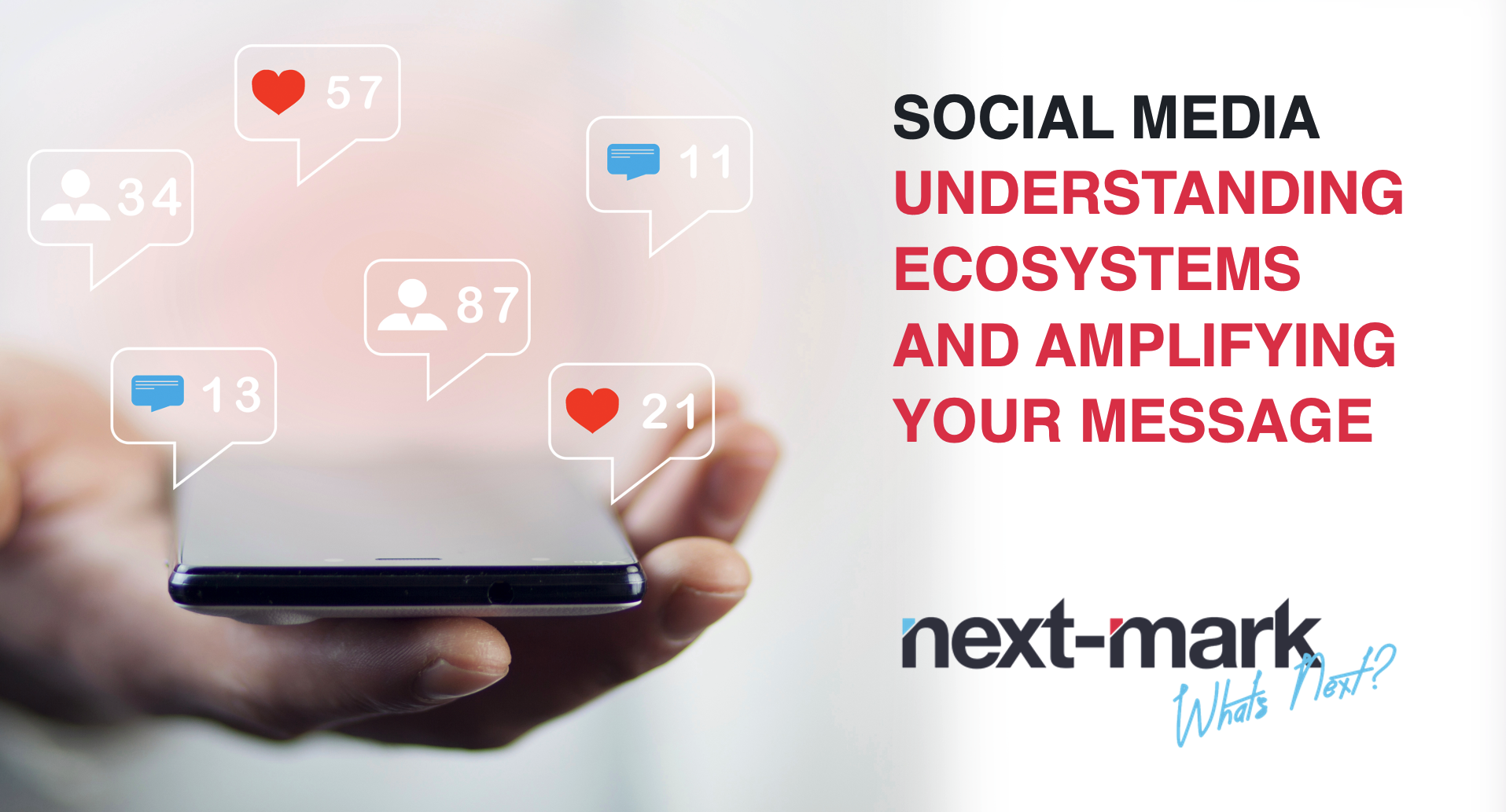 ---
10 Tips For Optimizing and Growing Your Social Media Success
Utilizing social media as a tool for personal branding and driving business growth is no longer optional for marketers and business professionals. With millions of users spending hours each day on social media, there's an undeniable opportunity, but getting started or improving on existing results can be daunting. To help, we've put together 10 tips for optimizing and growing your social media success.
Keep reading for more information about social media trends, relevant platforms and expert advice on how to step up your social media game.
Keep Up with Social Media
Social media has always been part of the marketing conversation. But this past year has proven that it's here to stay. Social usage has increased dramatically and new users continue to grow. Platforms like Facebook and Instagram became crucial in communication and social interaction since in-person meetings became nonexistent. Having a business presence on social media is essential in B2B and B2C opportunities and is key to spreading awareness and promoting your product or service.
Quick Facts:
American social media users spend an average of 2.7 hours per day on social media
54% of B2B marketers say they've generated leads from social media
Only 26% of companies integrate social media into their strategies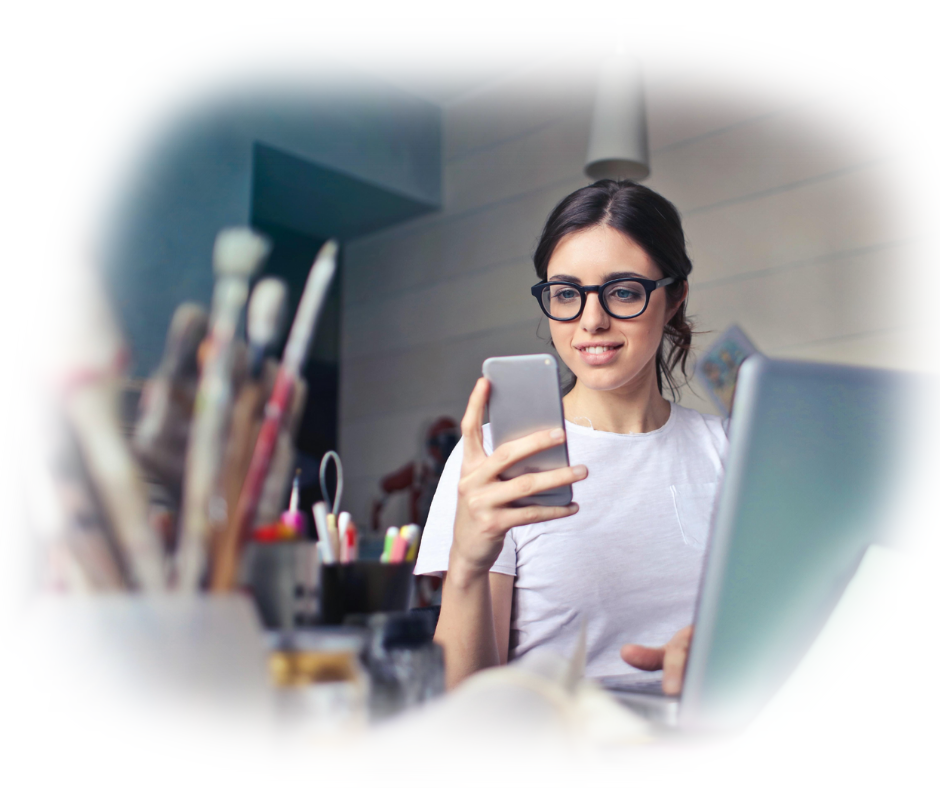 Why Social Media Matters
Besides promoting your business, social media can help you meet several business goals, including:
Better connect with and serve your customers
Improve your search engine ranking (SEO)
Reduce advertising costs and increase your overall ROI
Foster and deepen relationships with target audience members and your community
Identify Your Target Audience
Your target audience is a specific group of people who
are most likely to want or need your product.
Three reasons to define your target audience:
Ensure you're creating the right content for the right people.
Better understand how to create content that connects the benefits of your brand to what reader needs.
Increase conversions 'low hanging fruit' customers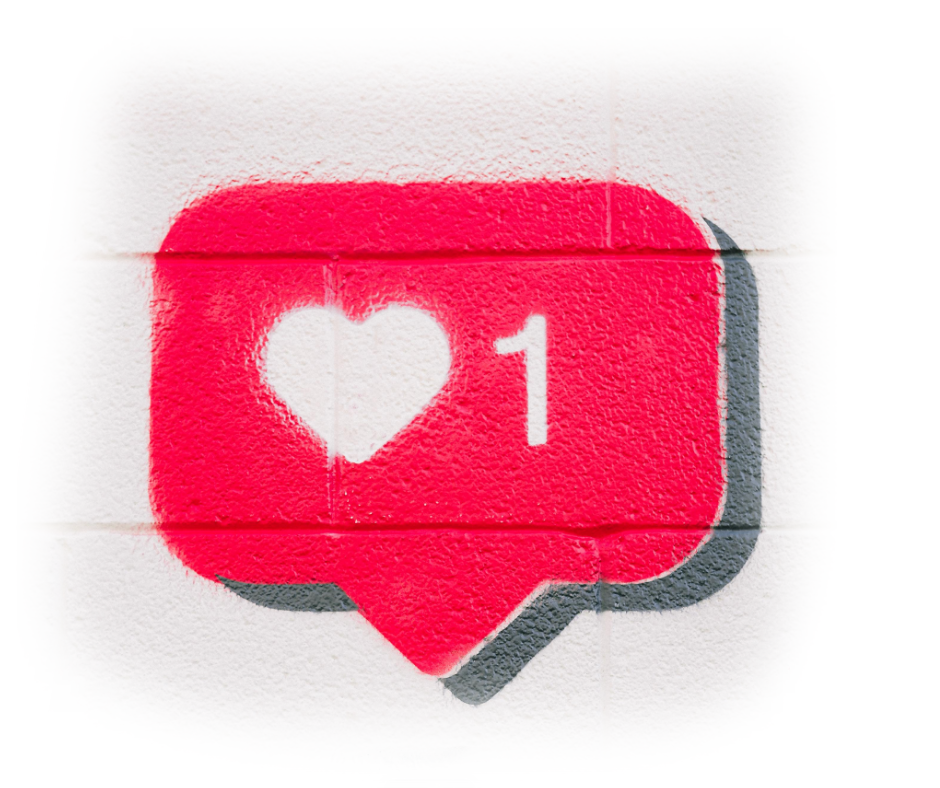 Know Where You Fit – Social Platforms
Not all social media platforms are created equal. Knowing the idiosyncrasies and landscape of each individual platform will help you make the best decision on where to focus your efforts, the kind of content to post and the type of users on each.

Average monthly users: 2.7B
Largest age group: 25-34 (26.3%)
Medium focused almost every form of content, especially news and promotions
Robust features and uses, including text, images, video, shopping
Supports feed or stories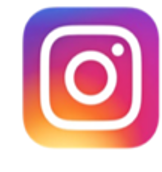 Average monthly users: 1B
Largest age group: 25-34 (33.1%)
Medium focused on imagery
Text, images, video, shopping
Supports feed or stories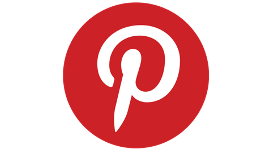 Average monthly users: 400M+
Largest age group: 30-49
The average user earns $70k
Medium focused on saving product photos and inspirational content
Feed and Board display with imagery, texts, links

Exclusively business/B2B audience
Medium focuses on content and thought leadership
Images, text, call to actions all on feed display and stories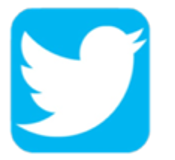 Average monthly users: 187M
Largest age group: 30-49 (44%)
Medium on instant communication, news and user interactions
Text, video, images on a feed, but story features now being added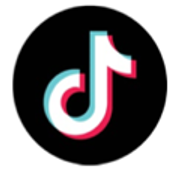 Average monthly users: 100M
Largest age group 18-24
Short form video and minimal text
10 Tips to Amplify Your Social Media Impact
1. Optimize Your Profile
Can my potential customers find my profile and what do they see when they arrive?
Audit Your Profile – Ask Yourself
Is my brand consistent?
Does my bio accurately communicate my company's value?
Am I using relevant hashtags in my bio?
Is there a call to action?
What should I link to? (Lnk.bio vs. company site vs. landing pages)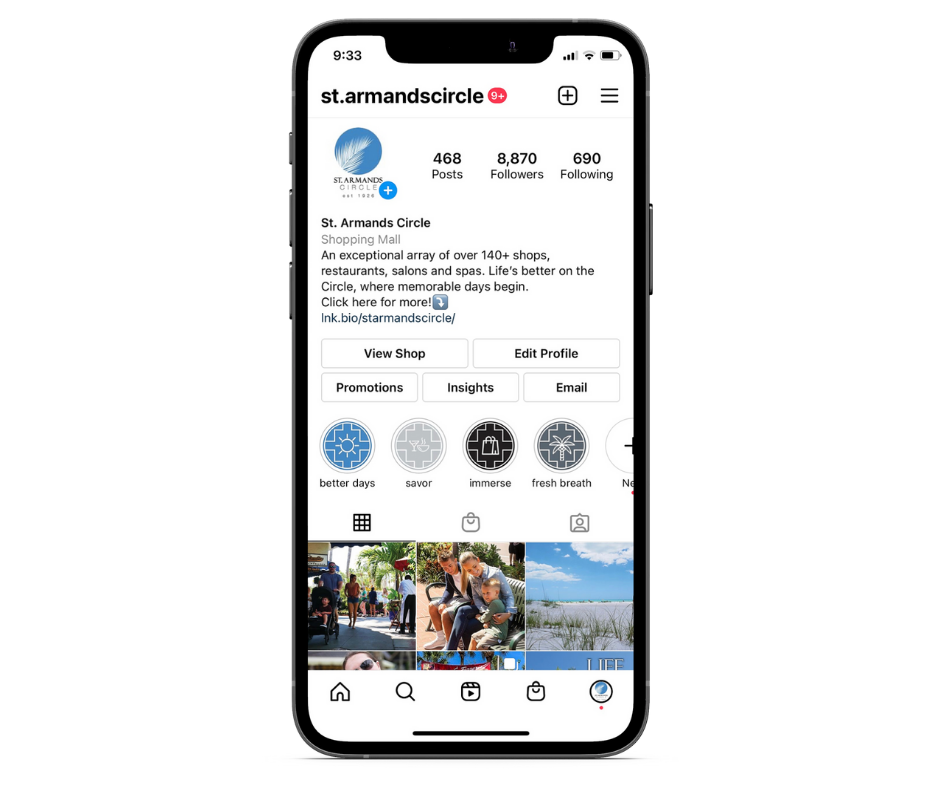 2. Don't Oversell
Great salespeople don't sell; they listen and solve their customer's problems. Create compelling content, hone your value proposition and connect with your audience meaningfully.
A great value proposition should:
Communicate why someone should do business with you
Be short and easy to understand
Define what you do
Explain how your business eliminates a pain point for your potential customers
3. Find Your Voice
Your brand voice is the distinct personality your brand takes on in its communications.
People connect with people – If your brand were a real person, what would they sound like?
Tips for finding your brand voice:
Think of 10 adjectives to describe your brand – then pick your top 4
Consider your target audience and the vocabulary they use
Write like a person talks, not like a business robot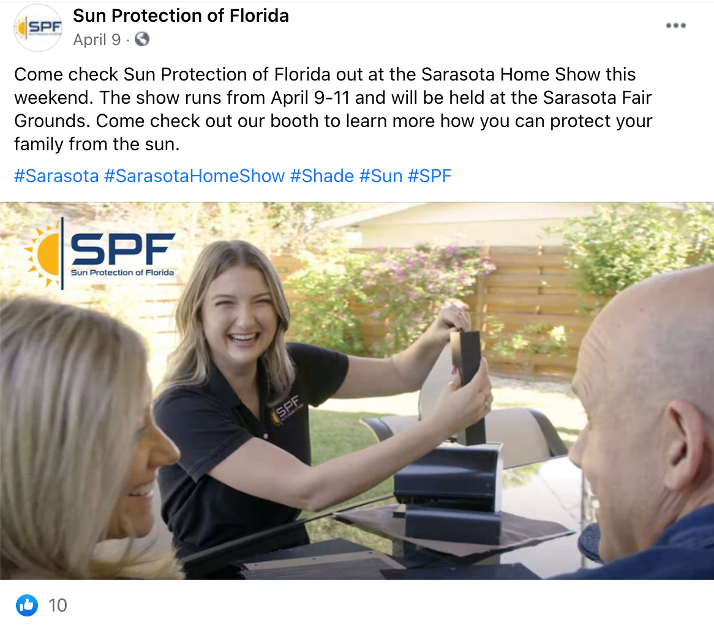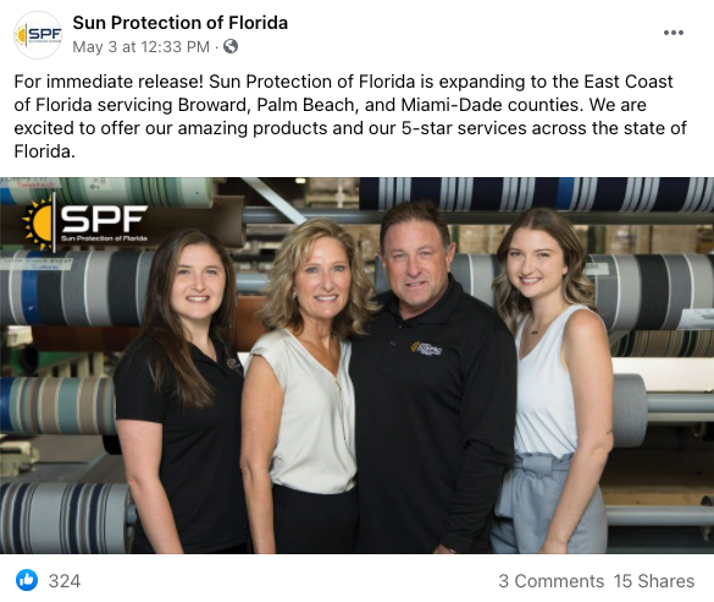 4. Be Consistent
For your audience to recognize and build a relationship with your brand, you must be consistent with your use of social media
Content consistency establishes your credibility, builds trust, and strengthens your reputation.
How to build consistency:
Create a social media content calendar
Maintain a post frequency you can handle
Schedule your posts in advance
Why is consistency so important?
Your business will stay top of mind
It helps you to build authority in your niche
It is easier to maintain
Your audience will be more engaged
You will generate more leads
Social media algorithms favor you
You will cultivate loyal brand fans
Your audience will trust you
5. Plan Your Content With A Content Calendar
Find a system and content schedule that works for you.
Sometimes the biggest hurdle to social media success is knowing what to post
Consider the types of content you want to share
Example: share project photos every Monday, promotion every Wednesday, behind the scenes every Saturday, etc.
Create the calendar in advance, then carve out time to create/film
With the right plan in place, you can batch content a few times per month or one month ahead
6. Engage With Your Community
Without engagement, social media is just media. Social Media Engagement is all about building an online community and it can affect everything from brand awareness to customer loyalty.
Social media engagement metrics include:
Likes and Favorites
Comments, DMs, and Replies
Shares and Retweets
Saves and Clicks
Reviews, Mentions and Tags
Tips for your business to earn engagement:
Respond to all comments
Ask your followers questions via captions, stories, or polls
Reply to reviews, both positive and negative
Participate in industry conversations in Facebook Groups or on Twitter
Comment on posts from other accounts you follow or on posts from relevant hashtags
7. Leverage New Features – Stories & LIVE are your friend
Social media platforms often incentivize users to explore new features by giving them additional power to reach more people.
These new features are often underserved by marketers but have high user engagement.
Benefits of Stories and LIVE:
Fewer brands use these features, so there's less competition
High audience reach and engagement
Social media users who watch a brands story are more likely to see those same brands' feed posts
The algorithm favors individuals and brands who use their new features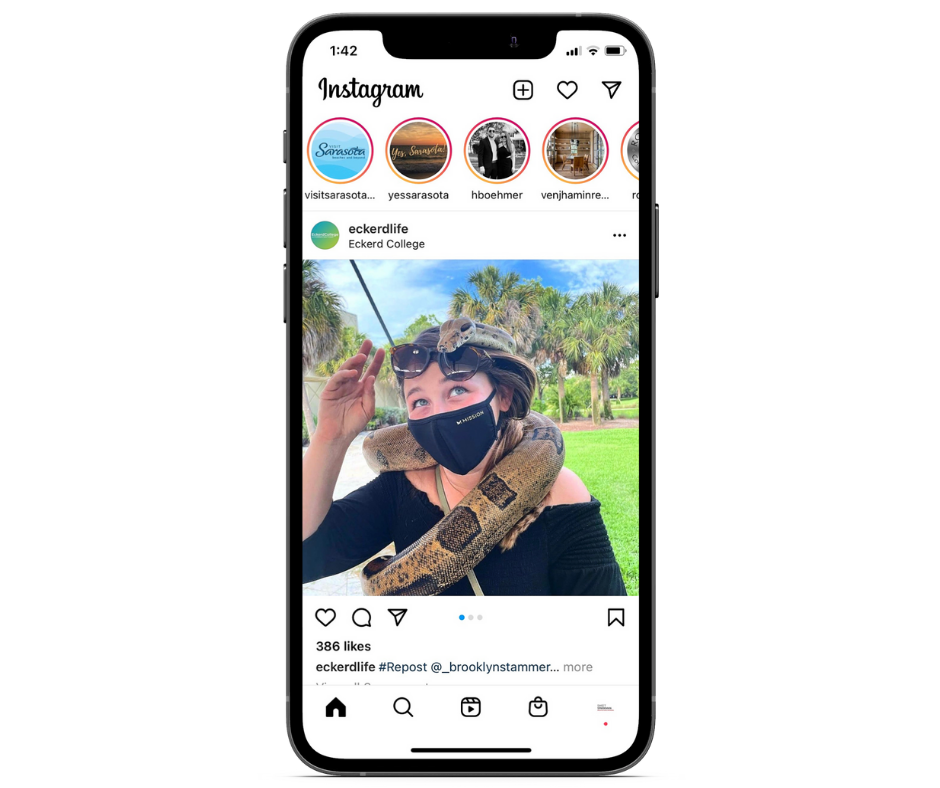 8. Use Personalized Landing Pages In Your Social Strategy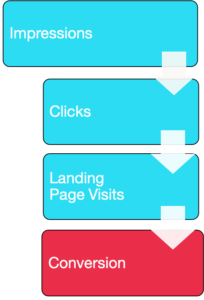 Personalized landing pages are web pages on a company's website about a specific service, product or offer – with a call to action designed to convert a customer to the next stage in the buying process
How can we use them on Social Media?
Sales team social profiles can be a significant driver of traffic to a company's website. Direct that traffic to pages that educate and convert
Landing pages are an excellent place for those engaging with your post to learn more about your company's products – Share links alongside compelling content
Prospects will journey to a company's website from bio links on sales team member profiles – Swap out bio links to a relevant landing page for decreased bounce and higher sales conversions
9. Use free tools to make better, more engaging content
A great social media post is eye-catching, relevant and visually appealing. For large brands, social media managers, sales teams and designers all work to create this content together. Unfortunately, this often isn't an option for small to medium-sized businesses or those without the support of a marketing agency.
Free online tools can make your content shine and help create a consistent brand for bootstrapping social teams. Our top free tools:
Canva – This design platform makes designing beautiful social media images and other kinds of assets easy. With free and premium plans, there's something for everyone (https://www.canva.com/)
Photopea – An online knock off of photoshop, this free website is excellent for individuals who need to adjust images quickly and inexpensively (https://www.photopea.com/)
Unsplash, Pexels, and others – These free imagery libraries have millions of free, copyright-free photos on nearly any subject (http://unsplash.com/)
Hashtag Generators – These can allow you to find highly-used, relevant hashtags in your area or industry
Viralpep – This basic free tool allows users to schedule up to 20 social media posts for a variety of platforms, including Facebook, Linkedin, Instagram and more (https://www.viralpep.com/free)
10. Seek buy-in and resources from company leaders
No man or woman is an island. For sales teams to be effective, they need top-down support. Remember, only 26% of companies integrate social media into their strategies, which often leaves those responsible for social management underserved.
For individuals and teams looking to improve their company's social presence and, as a result, sales, there needs to be a level of investment from company administrators or leaders.
Make a plan, identify needs and seek support:
A marketing agency partner
What content can leaders or marketing teams create for social media managers each month?
Blogs, videos, infographics, interviews, imagery, lead magnets
Social media management tools for measuring success and scheduling posts
Leaders encouraging all members of an organization to support social messaging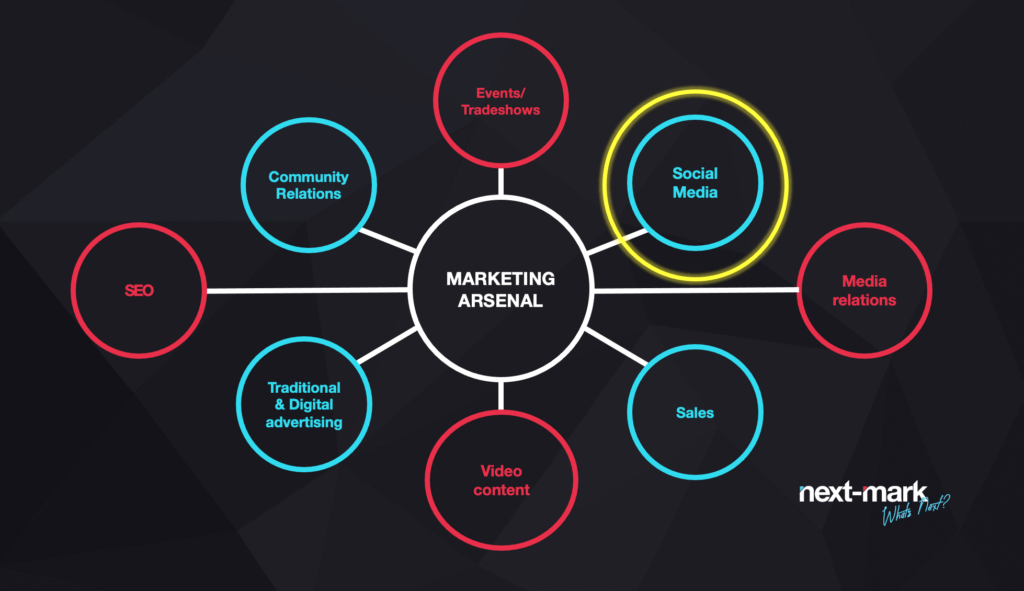 Final Thoughts
Social media is only a small component to an effective and robust marketing strategy. While it's important to give social media the time and attention it needs to be effective, there's many other things to consider. Additionally, content and tactics from other marketing arms of your business can be integrated into your social strategy. When you have a cohesive marketing plan and are promoting high-quality content, there's unlimited potential for growth.
Want to learn more about Next-Mark's marketing, branding and social media services? Contact us today!