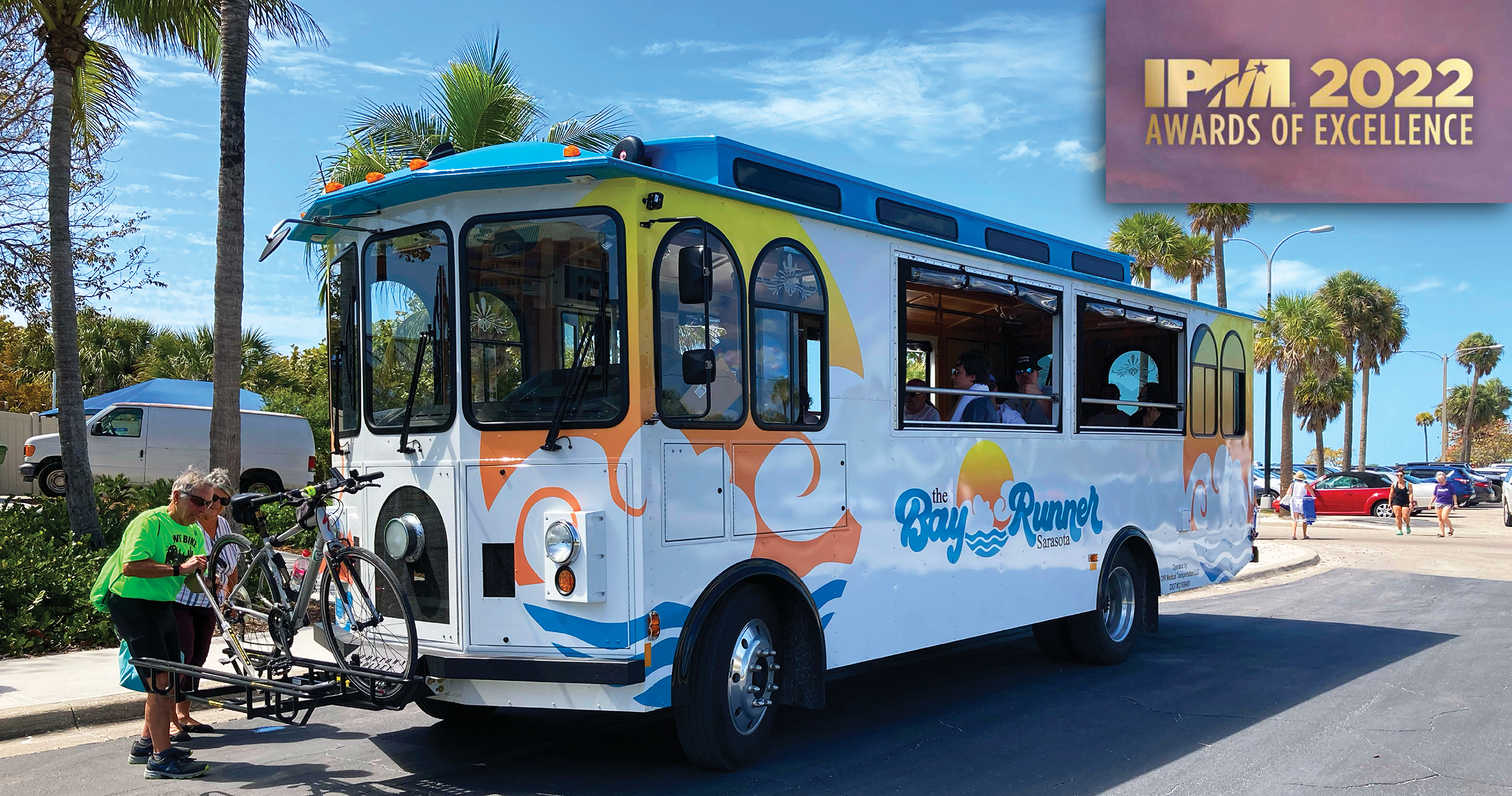 Next-Mark Shares Prize With City
Bay Runner marketing campaign nets agency international prize
SARASOTA, FLORIDA – As part of the International Parking & Mobility Institute's (IPMI) annual Awards of Excellence, the City of Sarasota and Next-Mark, LLC have taken home top prize in the "Innovation in a Mobility, Transportation or Parking Program" category for the Bay Runner Trolley.
The free trolley operates seven days a week from 8 a.m. to midnight and has seen ridership in the tens of thousands thanks in part to the success of the robust, impactful and creative marketing campaign created by the downtown marketing agency, Next-Mark, LLC. "More than anything, we were really invested in helping the trolley program garner strong ridership numbers," says Next-Mark founder Joe Grano, "but an award like this is really humbling and reflects the energy we put into this project."
The award recognizes projects in five categories that all "reflect the zeitgeist in their originality, creativity, and responsiveness to owner goals, user needs, and social and environmental impact," according to the IPMI. As one juror commented, "the motto of 'Live more, drive less' is perfectly put into practice with this experiential journey," while the award announcement also cited robust print, TV and in-person advertising as a vital component of the program's selection for the award.
"It truly takes a village to successfully execute something this big," says City of Sarasota parking manager Mark Lyons. That "village" was comprised of the city, the Downtown Improvement District, the St. Armands Business Improvement District, and the Florida Department of Transportation, who all contributed funding and insight into the program. "And, of course, hats off to the team at Next-Mark for helping the Bay Runner exceed our expectations," continues Lyons.
To view the full listing of awards, visit the IPMI website here.
ABOUT NEXT-MARK, LLC: Based in downtown Sarasota, Next-Mark, LLC is a full-service marketing agency that specializes in marketing communications, marketing strategy, public relations, content development, brand strategy and Salesforce services. With both local and national clients, Next-Mark brings a high level of creativity and professionalism to every campaign, regardless of industry or scope.