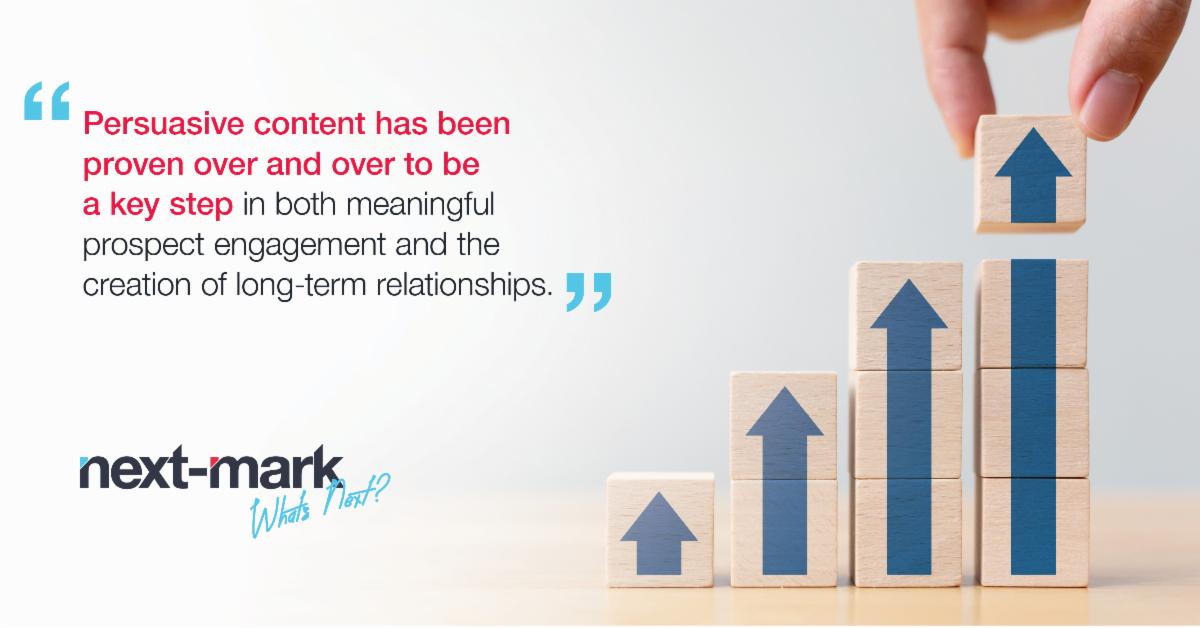 Today, there are many techniques for getting visitors to your website. Unfortunately, it takes more than a long-tail keyword to make them stay.
That, of course, is what you want. You want to capture their attention long enough to make your case – and convince them to choose you over your competitors.
And that's where persuasive content in the form of thought leadership comes in, turning a plea of "trust us" into reasons why they should.
Persuasive content has been proven over and over to be a key step in both meaningful prospect engagement and the creation of long-term relationships, as companies provide valuable information to and about their markets and establish themselves as go-to experts in their fields.
Following are just a few ways you can use the knowledge you already possess, the expertise you already have and the success you've already achieved to generate leads and grow your business exponentially.
Case Studies
Case studies are more than testimonials (Tom: "They're great!" Dick: "The best!" Harry: "No. 1!"), they are detailed explanations of how you helped others with needs much like those of the prospects reading it. They are the who, what, where, when, why and how of the application of your product or service, with the kicker of actual reported results.
This type of persuasive content helps prospects see themselves in a context they understand. They tell a story of interest to the reader and impart credibility that builds trust and confidence that choosing to work with you is a good decision. It is a solid example, not merely a promise. The more case studies you have, it follows, the louder the message that you understand the challenges of your target market and know how to address them.
Do they work? Yep. In fact, a recent Demand Gen Report showed case studies to be the most potent force in traditional persuasive marketing, with 79 percent of business-to-business companies reported leveraging them to research their buying decisions.
White Papers
Coming in as No. 2 on the marketing hit parade in that Demand Gen Report was white papers, with 71 percent of prospects using them to research potential purchases. The icing on this cake is that, if the topic and copy is really compelling, about three-quarters of respondents said they would share personal and company data in exchange for an opportunity to download it.
Basically, a white paper is a research report that highlights a specific issue and shows how it can be solved. It is intended to educate the reader, breaking down a complex issue and presenting the issuing organization's viewpoint on it, while only tangentially referencing how that organization's product or service can address that issue. It's a bit of a high-wire act, as the right balance is needed to create and maintain credibility while making a strong case for a specific solution.
A good white paper is authoritative, informational, well researched, well documented and professionally written and presented. It also is reader-focused and heavy on the benefits of taking the path it lays out. And, yes, it can very persuasive.
Infographics
Infographics are soundbites solidified. They enable people to easily digest information through the creative use of charts, statistics and visual data. When done well, they grab attention and make key information memorable. Evidence also exists that infographics are more likely to be shared than text-based content.
Infographics take advantage of the fact that about 65 percent of us are visual learners, learning and remembering best through visual communication. They can even be fun to read, way more entertaining than a statistical report. They also can give the reader options, allowing them to click through if they want more data on a certain point, which can guide your communications strategy.
Integrating your knowledge of what's most important to your market with eye-grabbing design, you can give prospects information they need and quicken their journey to decision making.
Video
Speaking of visual impact, video is said by many to be the most persuasive form of thought leadership and content marketing overall. When both succinct and effective, video can instruct, elicit emotion or elevate understanding within the attention span of the average consumer. Its movement grabs attention and good copy can keep it there, steering viewers to the next step in the decision-making process.
In the business world, according to Forbes research, nearly 60 percent of senior executives say they would rather watch a video than read text. And, while wit and creativity can play a role, the C-suite is, and always will be, focused on solving problems and meeting goals. Thus, a video should give them a quick insight into just that.
We live in a world of innumerable options and sensory overload, and it's getting more difficult for the ordinary business without benefit of billions to be heard. Persuasive content is, without a doubt, the best and most economical way to amplify the volume, using information you already have to show your value and stand out among the competition.
At Next-Mark, we have collaborated with leading brands throughout the US and internationally in developing substantive content that not only provides a thought leadership platform but moves the needle in measurable business results. Contact us today to get started at 941.544.2765 or at clientresults@next-mark.com.