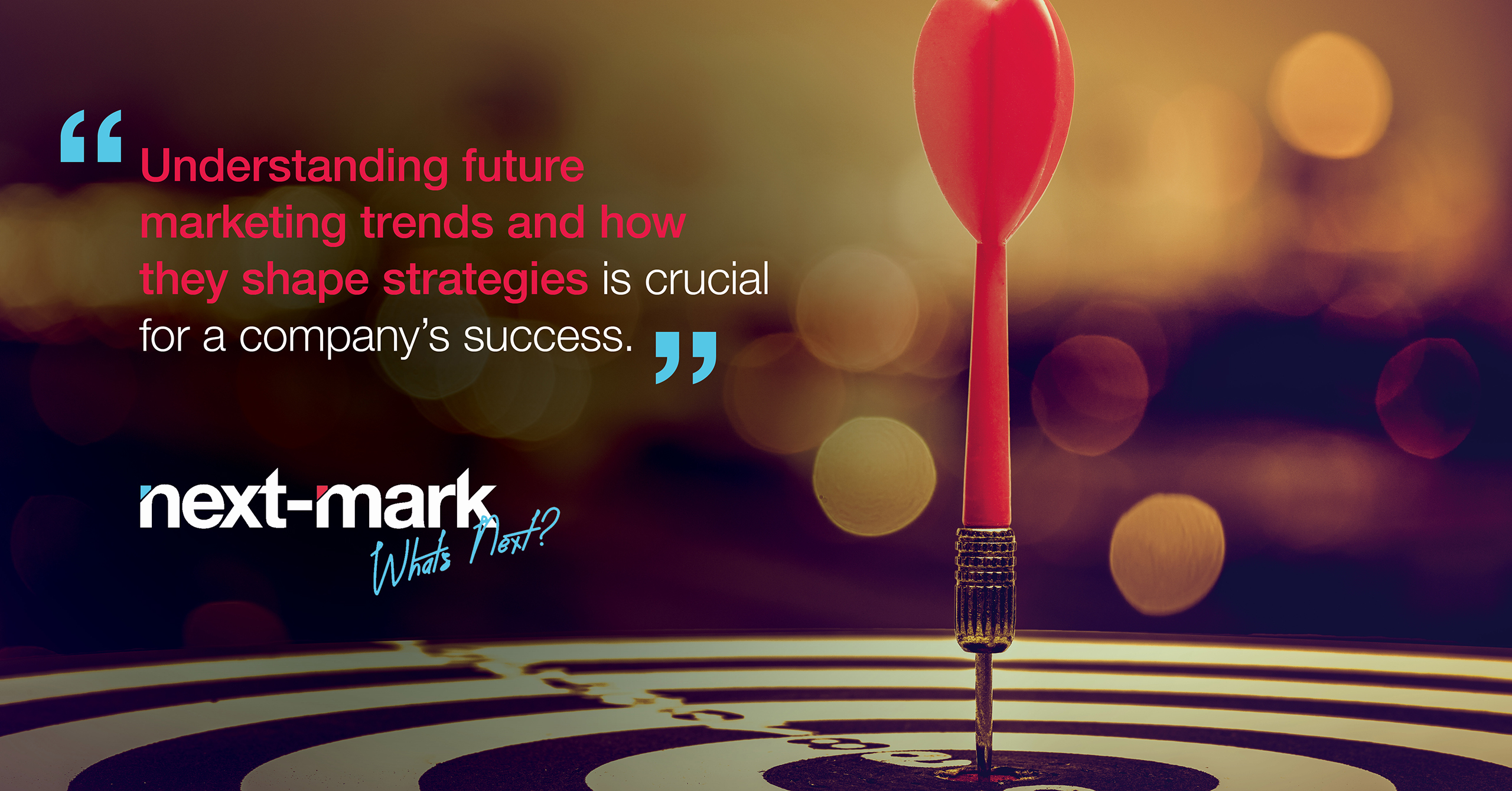 Three Predicted Marketing Trends for 2022
by Kristen Lundy
The best marketers always look to the future. Since consumers' preferences constantly evolve, marketing professionals have to anticipate what's next. Each year brings its own set of challenges that marketing plans must adapt to. It's no secret that these past couple of years have changed the dynamics of the industry. Understanding future marketing trends and how they shape strategies is crucial for a company's success. Next-Mark team members believe in staying ahead of the curve to remain competitive. We always ask ourselves "what's next?"—which is why we put together some marketing practices that we believe will trend in 2022.
Hybrid events
Despite obstacles presented with the pandemic, live events are back and better than ever. However, some individuals aren't ready to get back into crowds, whether that be due to health concerns or travel restrictions. The solution to those who want to experience an event without having to actually attend one in person is hybrid events. A hybrid event combines both an in-person experience with virtual elements. Additionally, hybrid events allow people to attend from anywhere, which ensures the audience can participate in activities while working within their comfort zone.
With these notions in mind, we believe there will be a growth of hybrid events, as they offer many benefits for an organization. According to Brella, some of the benefits of organizing a hybrid event include increased reach and attendance, higher audience engagement, more sponsor opportunities, and reduced costs. In addition, a hybrid event allows for the capture of more content throughout the event, which will aid in content creation and implementation for months post-event.
Adapting content for shorter attention spans
Due to the contemporary digital era, content marketers find it harder and harder to have the full attention of consumers. Individuals are surrounded by screens almost every minute of the day. In fact, the average American spends about 7 hours and 11 minutes looking at a screen every day, according to data from DataReportal. With social media and digital news, there is hardly a time throughout the day that we aren't enticed to look at a screen. HubSpot states that the attention span of the average individual has fallen to just 8 seconds. Additionally, more than 59% of people share Twitter articles without reading them in full, and more than half of page views last less than a minute.
What does all of this mean for marketers? It's simple. We have to adapt our content to this reality when developing content marketing strategies. A few ways you can achieve this is by creating quality and visual content, investing in thought leadership and meeting readers' attention spans half way by using headers or summarizing long pieces of content. By using even a few of these elements you will be able to grab the attention of your consumers, get your point across and make an impression to your targeted audience.
Personalization becoming more prominent
Through a variety of mediums, we are flooded with all sorts of information. Whether it be through social media, billboards, TV commercials or emails, brands compete for our attention. Due to this (sometimes) overwhelming circumstance, individuals tend to tune a lot of it out. This means that creating impersonal content when trying to reach your target audience most likely won't end with consumer engagement. Using personalized content allows your audience to feel a deeper connection to your brand.
According to PieSync, marketing personalization means interacting with your audience and customers in a way that feels personal and human, taking into consideration their interests and preferences. The average customer wants to have a personalized experience. In fact, research conducted by Salesforce found that 58% of respondents view personalization as very important when engaging with a company. Creating a personalization strategy can include personalized ads, custom email campaigns and tailored content. By utilizing personalization in a marketing strategy, companies have proven to increase conversions and customer retention.
With 2021 coming to a close and 2022 right around the corner, it's important that we, as marketers, anticipate fundamental changes in the way we do our job. Over the next year, we are ready to learn and adapt to this ever changing industry. Our evolving techniques help take our clients' success to the next level. At Next-Mark, we will never stop perfecting our practice and looking to the future. If you're looking for an agency that will take your marketing plan to the next level, engage with us today. We're ready for what's next. Are you?