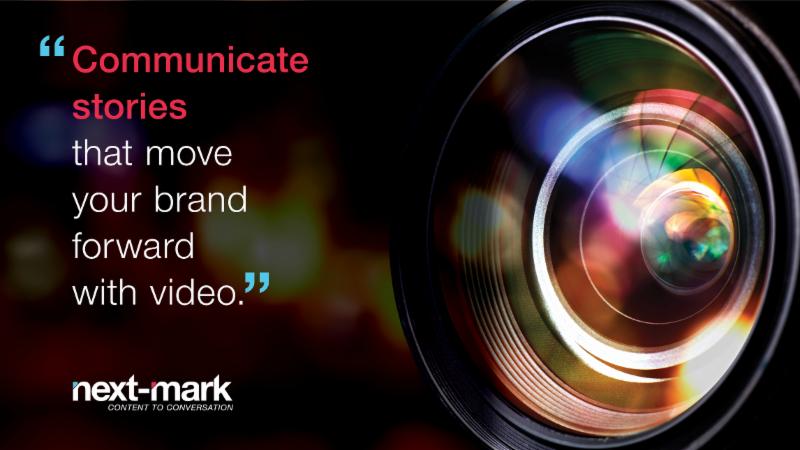 Essential Elements for making more effective videos
Whether it's online, corporate, YouTube, a trade show booth or kiosk—whatever the device—your company should be using videos to further its cause. For business, videos can take many forms and serve a wide range of purposes. Live action, motion graphics, interviews, whiteboard animation, voiceover, and music can be used to communicate stories that move your brand forward with video.
Here are 10 tips to help your business develop more effective videos, ones that will function as valuable strategic content.
Be Strategic!
As with anything in business, starting from a strategic standpoint will always pay dividends. Some videos will need to sell a vision, others must explain a product concept or teach essential skills. Still others will leverage capturing live events in a way that can be shared and extended to maximize their value. Always start with a clear idea about what each video is supposed to accomplish.
Tell Your Story with an Impactful Script
It's all about the story, and writing the script professionally is the all-important stage when the story really starts to take shape. All the elements—words, sounds, motion graphics, animation—must be ordered and presented in a way that effectively communicates what the finished video will be. Next step: storyboarding.
Create a Storyboard that Visually Embodies Your Message
Videos are built one sequence at a time, and the best (and most cost-effective) way to visualize the whole story is through a storyboard. Walt Disney Studios developed the concept in the 1930s to help bring its ground-breaking animation work to life. Storyboarding is just as important for live-action and explainer videos, as it forms an important bridge between the script and the screen.
Let Your Sound Choices Resonate
Sound must be an integral part of every video. Choose music, voiceover, and any other sound sources based on how to best tell the story and stay true to your brand. Also, though we're about a hundred years into the sound era for film, many viewers still watch video on mobile or desktop without the audio turned on. Consider adding closed captions during the editing stage. Plan ahead, though. Captions should be handled during the scripting phase as well.
Minimize Text to Maximize Impact 
Viewers of news programs have become used to a deliberate overload of text elements on screen. In most cases, this is the exact opposite of the approach to take when producing a video for business. Viewers process images and infographics much more quickly than they do text, so keep text to a minimum and make sure that every bit of text earns its keep by delivering or at least reinforcing your key messages.
Leverage Infographics for Dynamic Content
If any part of your video needs to convey data, use infographics, never simple numbers. From a two-colored pie chart to stylized people and objects that move and change, your video will communicate with more clarity and power with infographics. By the way, as a client, you won't need to supply the infographics; your agency will create them for you.
Let Video Empower Your Brand
Of course, every aspect of the video should follow brand standards regarding use of logos, fonts, and other design elements. Not so obvious, but just as important to consider: the new video will become part of your brand. Make sure that it has the correct tone and production values it needs to fit in.
Time is Everything
That's not a typo. Timing is important, too, but the point here is to keep it short—but not always. YouTube considers four minutes as the limit for a "short" video. Shorter videos are more likely to be shared, too. But never rush a story. If the script runs longer because you're covering lots of territory or the topic is complex, then the length of the video will have to stretch as well.
Parse it Out
You can increase the value and ROI of every one of your videos by planning them to be parsed later on. Modular videos can be repurposed for kiosks, trade show exhibits, and social media. For training videos, for example, consider breaking a longer video into several smaller ones, each with a step or two in the process. Take advantage of the video platforms' playlists to organize the videos for viewers.
Power Up Your CTA (Call to Action) 
In most cases, you will want your video to inspire viewers to take action. This can take the form of a call, a visit to a website, or sharing the video on social media. There are even ways to add interactivity such as polls or quizzes to your videos. Especially for longer videos, include a call to action well before the end. It's related to the old sales warning to "never talk past the close." If the viewer has already grasped the value of your video's message, they should have the option to take the next step already.
At Next-Mark, we help clients develop powerful videos, taking them from concept to completion and beyond. If you'd like help creating videos that work effectively as strategic content, please give us a call at 941.544.2765 or email us to get in touch. For more information about all of our capabilities, view our Online LookBook.