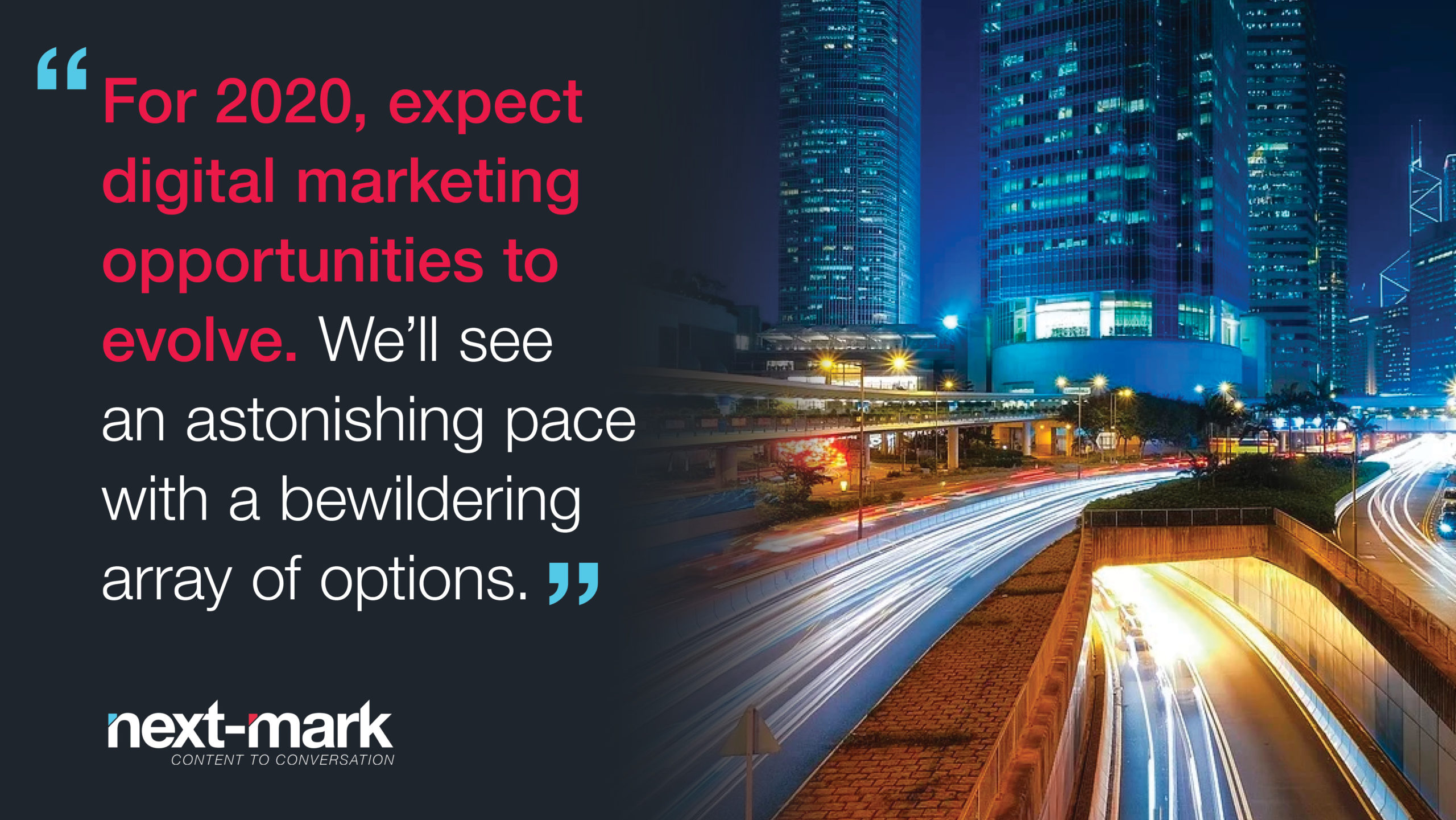 Roughly 90 percent of U.S. businesses reportedly use social media as a marketing tool. That number is a testament to the power of online outreach and the opportunities it can provide to grow sales. As we head into 2020, those opportunities no doubt will grow themselves, as technology continues to evolve at an astonishing pace and in possibly bewildering array. Following are some of the related trends we believe you can expect to see in the New Year.
Content Continues Its Reign . . .
. . . and high quality is expected. Remember that no one knows what you do better than you, so use that knowledge not only to inform but to assist your prospects and customers. The more content, the better, as you make it easier for search engines to find you and your relevant information.
Internal Communication Strengthens
Businesses will take a fresh look at an under-used weapon – their own employees – by aligning and engaging them with corporate goals and plans, using digital tools to create an atmosphere that spurs productivity, team work and mutual pursuit of excellence.
Brands Take a Stand
This election year is expected to see more brands weigh in on issues that impact their brand purpose and audiences, as noted in Forbes. "Research has shown that trust among government is down, and more people are looking to their workplace and brands that emulate their personality and beliefs to drive change. For brands, it's an opportunity to demonstrate their cultural relevance."
Customer Experience Drives Sales
The customer experience is predicted to become the leading brand differentiator in 2020 taking  Customer Relationship Marketing to a new level of necessity. "Consumers agree, according to a 2019 Salesforce survey. In it, 84% of respondents ranked the importance of experience at the same level as products or services."
Companies Get Personal
Most leading marketers agree that 2020 is going to see an explosion in personalized marketing, reaching out to consumers tired of the generic and the irrelevant. We saw this coming, in a recent survey 90 percent of consumer participants said they would be more likely to give their business to a company that offered them a personalized experience.
Surveys Get Shorter, "Smarter"
Tired of tedious, and often clunky surveys, consumers will drive companies to create "micro surveys" as quick pop-ups on phones or websites if they are to succeed in information gathering in the next decade. The most sophisticated research eventually will incorporate artificial intelligence in the data collection process and lay the foundation for real-time, "conversational" marketing.
Going with the Pros
It's taken awhile, but business leaders are acknowledging that digital marketing is its own animal and needs a plan and strategy. Rather, digital marketing needs to be driven by people who know what they're doing on each and every relevant platform available – while always looking for the next.
Thoughtful Outreach
Now, more than ever, it's not enough to just post on a regular schedule. Each piece of outreach should be developed to inspire conversations, establish your place in existing ones and create meaningful relationships.
We no doubt will be talking more in-depth about these and other digital trends in the New Year, as they continue to alter marketing in our ongoing digital age. Until then, we're here to take on the task or answer any questions you might have as 2020 looms with unprecedented outreach opportunities. Wishing you continued success in the new year!