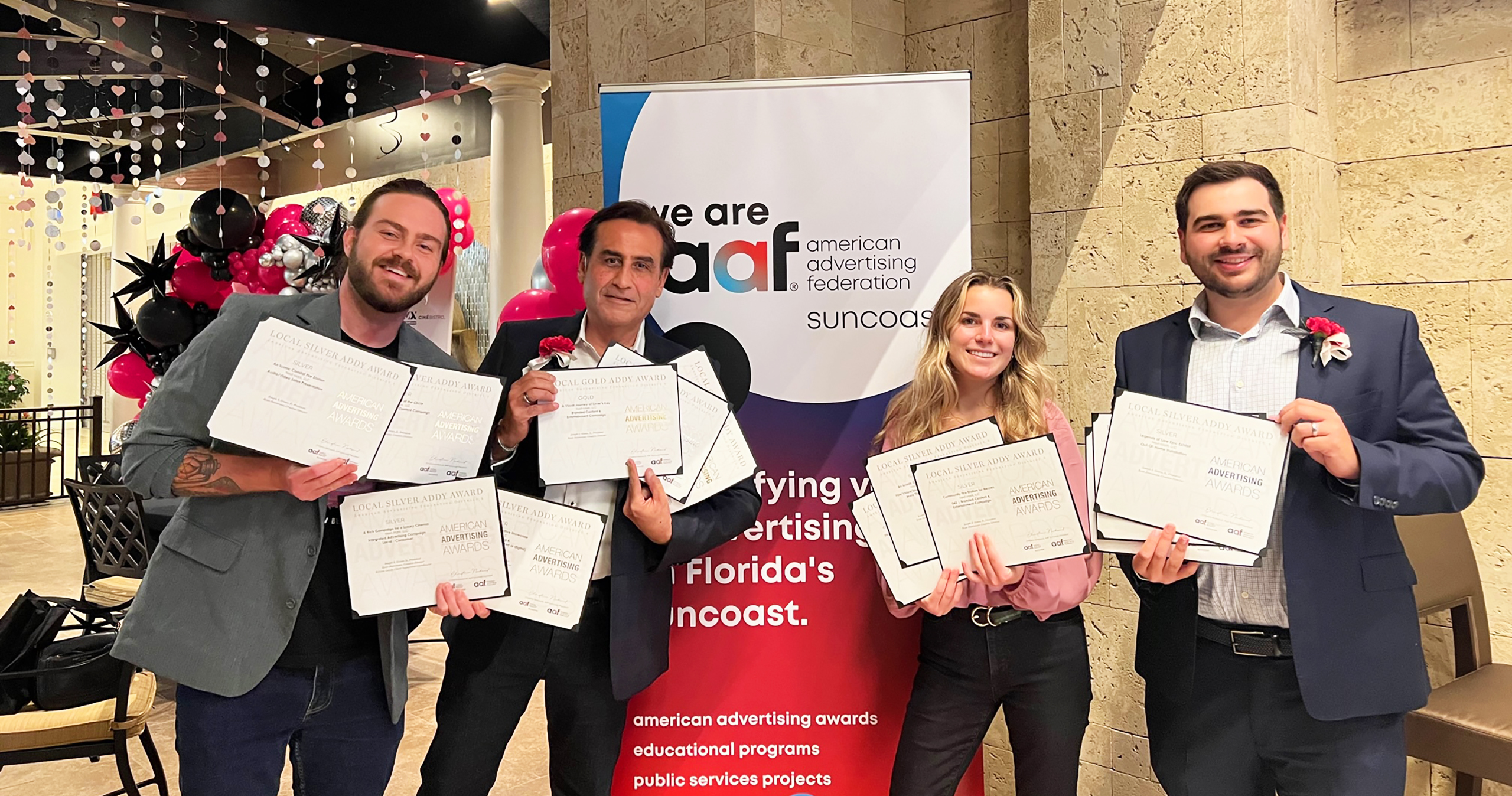 Next-Mark Shines at Suncoast Advertising Awards
The Sarasota-based marketing and communications agency earns a company record of 13 awards for creative excellence.
Next-Mark, a full-service marketing and communications agency serving clients in Florida and nationwide, announces it earned a company record of 13 ADDY® Awards at the Advertising Federation's annual competition hosted by AdFed, the Florida Suncoast's regional AAF club.
The awards span multiple categories that directly impacted the success of Next-Mark's clients. Clients for whom Next-Mark won awards include: St. Armands Circle Business Improvement District, Sweet Sparkman Architecture and Interiors, CMX CinéBistro, Elsevier, The Met Sarasota, and Next-Mark's own marketing. Categories of excellence included integrated marketing campaigns, video, ambient media, branded content, and digital media, among others.
Specific work recognized included the CMX CinéBistro Coastland theater launch in Naples, St. Armands' "Sol of the Circle" event series, The Met Sarasota LookBook, the Sweet Sparkman Architecture and Interiors website along with three architectural videos, an Elsevier tradeshow design, and Next-Mark's capabilities LookBook.
"We are committed to delivering impactful creative content driven by a strategic business approach across client categories" said Next-Mark president and founder, Joseph S. Grano, Jr. "To be recognized by our peers is a testament to our results-driven process, as well as the commitment of our team in delivering exceptional work on behalf of our clients.
About Next-Mark
Next-Mark, LLC is a full-service, award-winning marketing communications agency based in Sarasota, FL. It helps business leaders beat their growth targets by delivering better competitive insights, more powerful branding, stronger strategies and faster results. Breaking away from the constraints of traditional marketing service organizations, the Next-Mark team facilitates new conversations about a client's brand, integrating experience, analytics and innovation in developing strategic marketing solutions to meet clients' individual needs. Next-Mark focuses on internationally and nationally recognized brands along with growing companies across a broad spectrum of categories, including healthcare, technology, hospitality and entertainment, technology, tourism, retail, destination, real estate, environmental, marine products and tourism. With clients from Beverly Hills to Amsterdam, its roster includes industry leaders such as Comcast/NBC, LexisNexis, Elsevier, Neuroflow, Nuance Communications, CMX/Cinebistro, Medecision, CGI, California Pizza Kitchen, along with Florida-based clients including The City of Sarasota, St. Armands Circle, Sweet Sparkman Architecture and Interiors, Sun Protection of Florida, Yarnall Moving and Storage, CitySide Apartments, and The Met Sarasota among others. For more information, visit its website at www.next-mark.com.