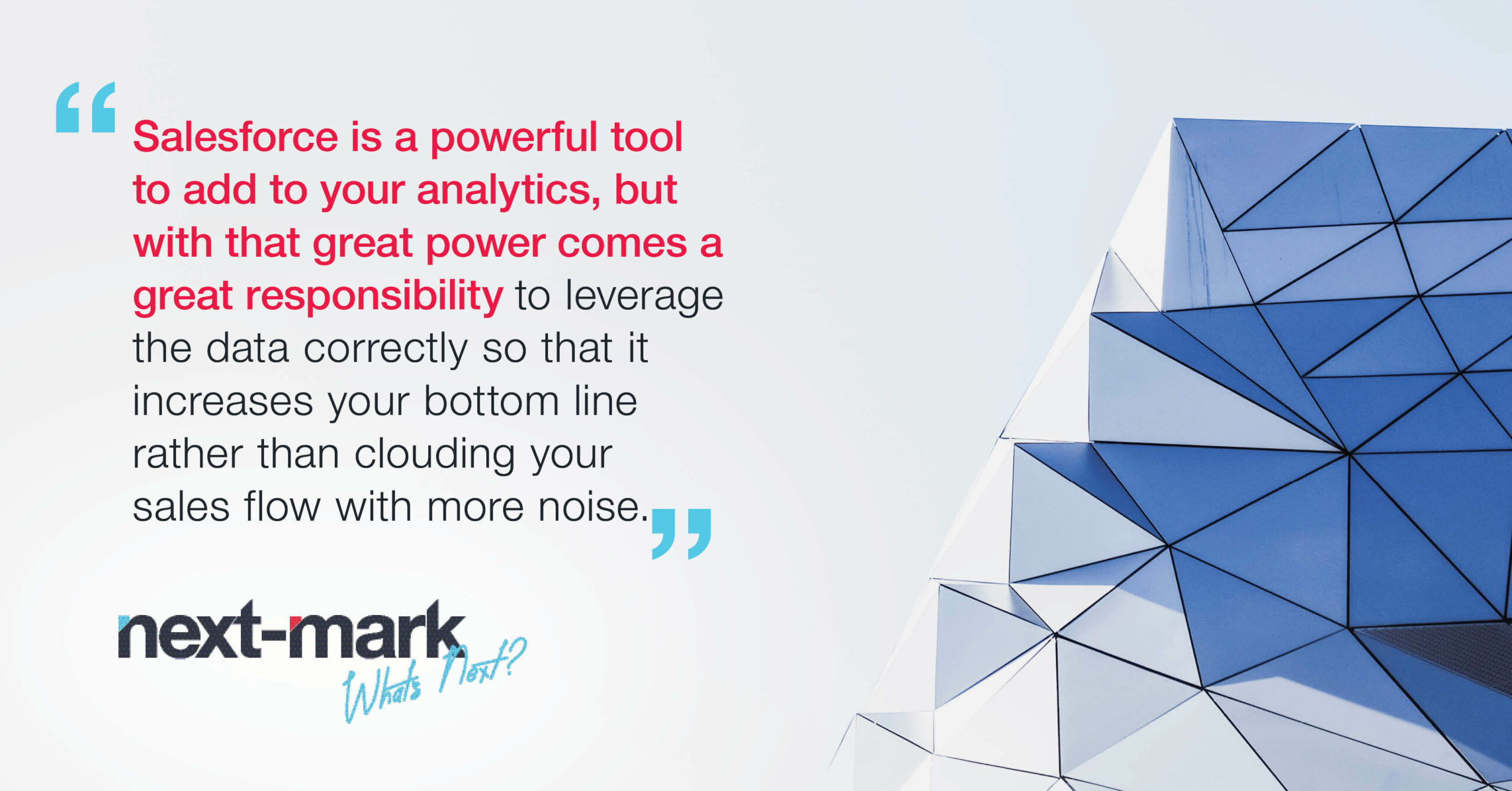 Three Things to Know When Picking a Salesforce Partner
by JT Grano
As Sarasota's only certified Salesforce Partner, we at Next-Mark are uniquely positioned to help you understand what to look for when integrating the Salesforce software into your business. Salesforce is a powerful tool to add to your analytics, but with that great power comes a great responsibility to leverage the data correctly so that it increases your bottom line rather than clouding your sales flow with more noise.
For years, we've been helping clients in a variety of fields—from healthcare to ride shares to publishers—utilize the platform to unleash the full potential of their client relationships by maximizing their digital marketing environments. When it's time for you to choose a Salesforce partner, here are some insights we've learned about the competencies you should look for:
1. A Good Listener
No two businesses are built the same, even when in the same industry and offering the same service. It's important that you find a Salesforce partner that takes the time to listen carefully and conscientiously to your organization's specific needs. We have seen too many times how a templated approach to digital marketing solutions prevents businesses from standing out from the crowd. In the end, our job is to translate your unique business processes into the Salesforce platform, which is only maximized when it aligns with your needs. In addition, a strong start to a Salesforce migration ensures a solid architecture to build future processes on.
2. A Strategic Planner
The integration of Salesforce is not a simple, short-term solution to your organization's needs. Managing, tracking and automating requires frequent upkeep over the duration of the process, which is comprised of a long string of milestones. Make sure your Salesforce partner demonstrates an understanding of how those milestones are achieved and tracked over the full breadth of your relationship, with KPIs established early on. In addition, make sure to choose a Salesforce partner with a proven track record of long-term client relationships, as this helps reveal a partner's ability to reliably evolve and grow in tandem with your organization.
3. A Team Player
A large component of Salesforce implementation is your organization's ability to navigate the platform. The right partner, rather than keep you in the dark and keep the expertise to themselves, should exercise patience and enthusiasm when walking you through the software's capabilities and utilization. That's why at Next-Mark we developed our Next Methodology for Salesforce implementation, which lays out our collaborative approach from the initial conversation to the go-live result and emphasizes a educational dialogue along that entire journey to ensure our Salesforce clients know how to utilize the platform. In addition to helping foster transparency and open communication, this collaborative approach inevitably leads to more creative use of the software. The more perspectives from knowledgeable users, the more new ideas and techniques can be leveraged to make the team stronger than any single individual.